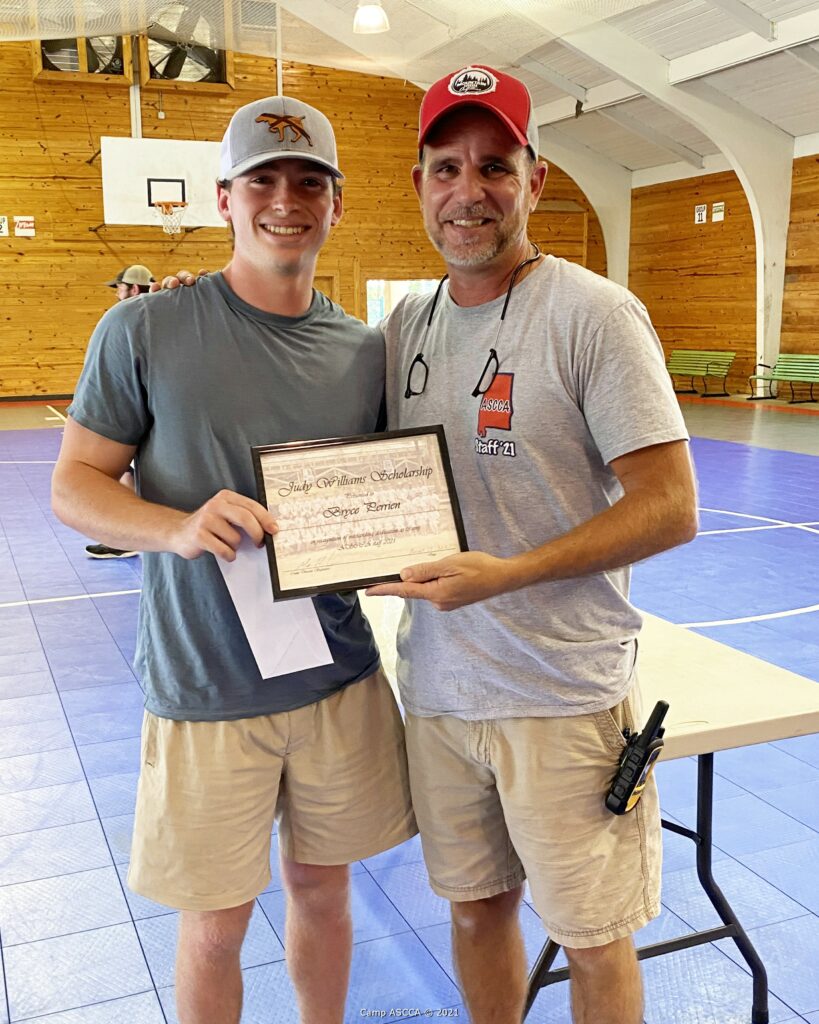 The Judy Williams Scholarship is given each year to a summer staff member. This decision is based on his or her enthusiasm, energy during work, quality of care given to our campers, and resiliency throughout a hot and challenging summer. The recipient is selected by the leadership staff, made up of unit leaders and a couple of our full-time staff members. The summer staff member chosen for this award is given a $500 scholarship.
Judy Williams is a donor, volunteer and former staff member who continues to serve and support Camp ASCCA in a variety of ways since the start of Camp in 1976. The scholarship was first given out in 2014.
At the end of Session 6, Camp Director Matt Rickman had the honor of presenting the Judy Williams Scholarship to the award's seventh recipient, Counselor Bryce Perrien. Bryce is an upcoming junior at The University of Alabama majoring in Chemical Engineering and has plans to attend medical school. This was Byrce's first summer as a counselor, he heard about Camp ASCCA through his grandmother, Janey Sanderson. Janey is an Alabama Pilot Member and an incoming ASCCA Board Member.
Bryce was selected as this year's recipient based on his hard work, compassion, and kindness towards every camper that he encounters. Our best summers would not be possible without our summer staff, and staff members like Bryce who change the game and often raise our summer success to a new level.
Bryce's favorite Camp ASCCA activities are going to the splash pad with his campers, tubing, and the zip line! He would like to extend his thanks to Judy Williams for her care of the counselors and for her endless support.
Bryce joins the list of Judy Williams Scholarship recipients, and it's full of incredible summer staff members. The list of recipients includes Gordon Warner, Brett Gray, Christian Thomason, Matt Smith, Lance Chayka, and Zach Rickman.