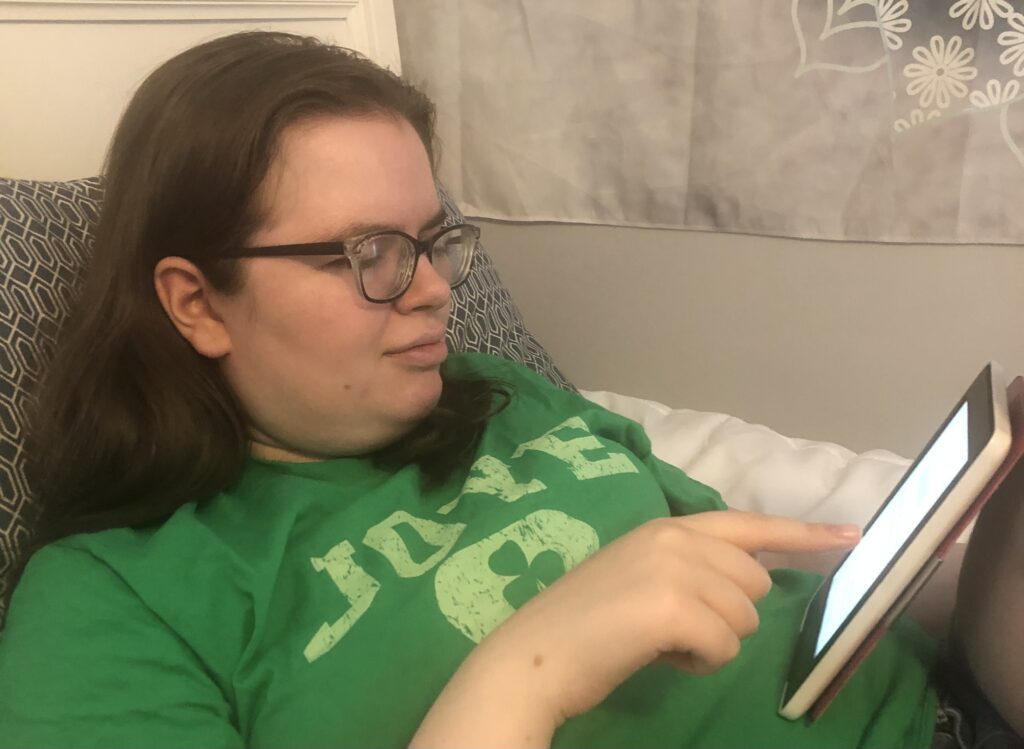 Since graduating high school a few years ago, I have tried different hobbies to explore my interests and continue learning. Like others with unique traits, I have limited options. Of the hobbies I've enjoyed the most, such as horseback riding, creating art, and learning sign language, I have found
that reading brings me the most personal benefit.

Because of the limited use of my left arm, reading a regular book is nearly impossible for me. I can't hold the book and turn the page at the same time with one hand. I did finally find a way to do it, but I much prefer the ease and comfort of an e-reader. With it, I can adjust the font, and I can turn the
page with just a tap. If I get a chance, I try to purchase books on my e-reader.

I get excited when I find a good author who has written several books or has published a series of books. For example, Stephenie Meyer is famous for the Twilight series, but she recently wrote a new book, Midnight Sun. I loved it! It's basically the same story, but from Edward's point of view. Another favorite author is Richard Adams. He's well known for dark imagery, and his most famous books are Watership Down and Shardik.

I have been reading Mary Pope Osborne's the Magic Tree House series since my early teen years. My favorite is Dingoes at Dinnertime because you learn fun facts about animals in Australia as the two characters go on their adventures. She has 54 books and still writes for the series to this day! The next one, A Big Day for Baseball, is about Jackie Robinson and comes out August 15. I can't wait to learn more about baseball.

I also love the Silver Brumby series of books by Elyne Mitchell. This is another series about animals, specifically wild horses in Australia. In researching for this article, I have just discovered more books in the series than I thought. I can't wait to read them all!

On the other hand, I also like to read the classics more than once. The Time Machine and War of the Worlds by H.G. Wells and Journey to the Center of the Earth by Jules Verne make great science fiction escapes, and Swiss Family Robinson by Johann David Wyss is perfect for a good laugh due to all the absurd creatures on the island. Mark Twain's The Adventures of Tom Sawyer and The Adventures of Huckleberry Finn and Laura Ingalls Wilder's Little House books have been family favorites ever since my mom read them aloud to us as kids. However, my all-time favorite is The Red Badge of
Courage by Stephen Crane. I discovered it from an old PBS episode of Wishbone on YouTube, and I thought the story sounded interesting. I soon found it online for download and loved it!

Another classic I have read more than once is The Lion, The Witch and The Wardrobe by C.S. Lewis, which I discovered in my literature class at my homeschool co-op. In my opinion, this book is the best in The Chronicles of Narnia series, and that's all I'm going to say.

Black Beauty by Anna Sewell and The Black Stallion series by Walter Farley are two other favorites. As you can probably tell by now, I enjoy reading about animals. For a good mystery, I always turn to the Nancy Drew books by Carolyn Keene.

Here's a classic that you may be surprised to find that I read regularly: Romeo and Juliet by William Shakespeare. I first read this play when we studied it in my literature class. After you read the play, I highly recommend watching the 1968 movie version starring Olivia Hussey and Leonard Whiting.

I'd like to mention that most of these books have been adapted into movies, so if you don't want to read them, or have a hard time understanding them, consider watching the movie or using an audio book. For example, I struggled with To Kill a Mockingbird by Harper Lee, so I watched the movie
version of the book, and that helped a lot.

If you're as much of a bookworm as I am, then you will enjoy reading these books. I am always on the lookout for a good author or a great book to add to my collection, so let me know your favorites!