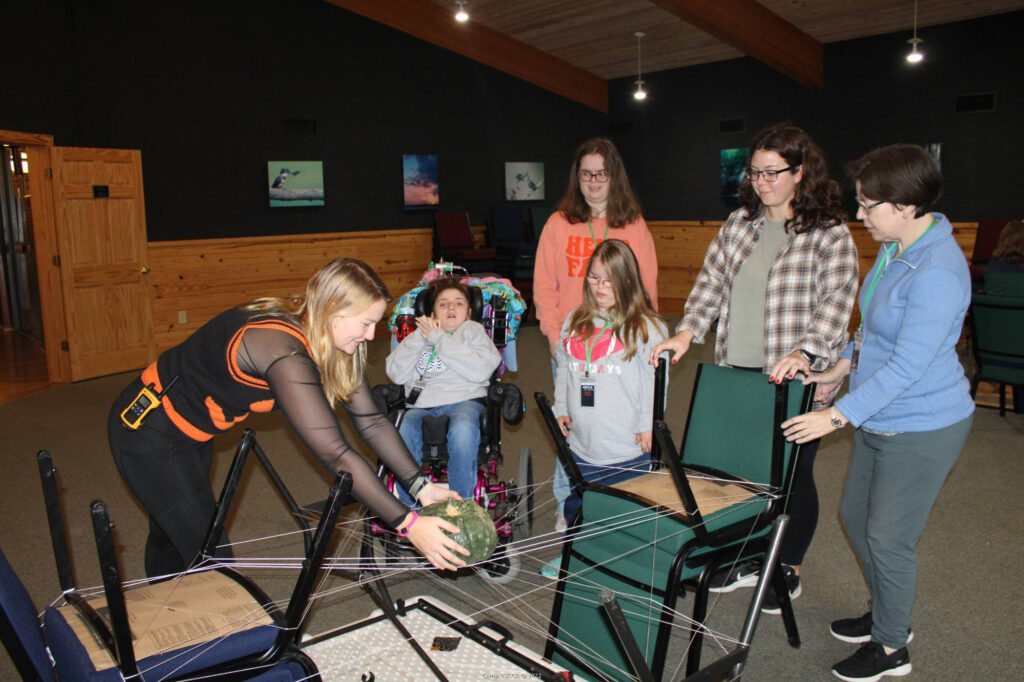 Family Fall Camp at Camp ASCCA usually starts the last weekend of October on a Friday and ends on Sunday, about the day before or the day of Halloween. The whole family can go, or you can let your child go alone because counselors will be there. The check in and the check out are held the same way as the summer camps, and other activities are a bit similar. In the Family Fall Camp, though, there are no water activities because it is normally too cold for them, even in Alabama.
The first night of the Family Fall Camp experience is the same as the first night of summer camp, which is a time to get to know the campers and eat pizza. The only difference is that there is a Halloween-themed scavenger hunt after dinner.
The following day many fun activities are planned. When I went this fall, I had fishing and nature in the morning, followed by ziplining and crafts in the afternoon. I am not a big fan of fishing, so I just sat on the bench to admire the scenery of the lake and beautiful fall leaves. My bunk mate caught so many fish, she created the record of seven catches! I was impressed with her fishing skills.
After a crazy time fishing, my cabin went to the nature activity, which is one of my favorite activities at Camp ASCCA. We named our team "The Dark Web." After teaching us basic information about spiders and how to identify them, they showed us three pictures of different types of webs for inspiration, and my team and I made one of those spider webs out of strings. We had a 6-foot rectangle, foldable table and two chairs as a base for our web. They placed a pumpkin on our web to test how high the web could go without breaking. Our web held up really well, and we ended up in second place. It was a lot of fun making a web. I hope we can do it again next year.
In the afternoon we had ziplining and arts and crafts, so after lunch and the rest period my cabin went to the zipline activity. The colorful fall leaves made the view of Lake Martin beautiful to look at as I waited my turn. It looked just like a painting. When I was ziplining, it felt like I was flying through Lake Martin.
The next activity we did was go to arts and crafts, which is my favorite activity ever. I love the arts and craft activity we did, which was painting a pumpkin. I had fun painting my pumpkin as a witch. The pumpkin had a long stem, kind of like a nose, and I painted two eyes above it and completed the face with an evil smile below the stem. Then I glued colorful strings of yarn to the top of my pumpkin to look like witch hair.
The next morning, before it was time to say goodbye to everyone at camp and go home, we had our last activity, which was the talent show. I signed up to sing "Revive" by Sture Zetterberg. I also love what the other campers sang, and they were great. Some of the songs they sang were Halloween-themed, such as "This Is Halloween," "Thriller," and "Ghostbusters," just to name a few.
As we were waiting our turn to go on stage, a person holding a huge bowl of Halloween-themed candy went around to everyone. I was able to choose my favorite chocolate candies while I watched the performances. We were all supportive to whomever was on stage. When the talent show was over, we still had 30 minutes to pack up whatever was left in our cabins.
Family Fall Camp was very fun, and I hope I can go again next year. Camp ASCCA has interesting ways to have fun and to provide entertainment for a child or adult with special needs. From concerts and talent shows for those who love music to the Bck4T and game room for those who love games, it seems like Camp ASCCA has everything someone with special needs would like to do as if they were home. I hope Camp ASCCA will keep on doing Family Fall Camp every year.