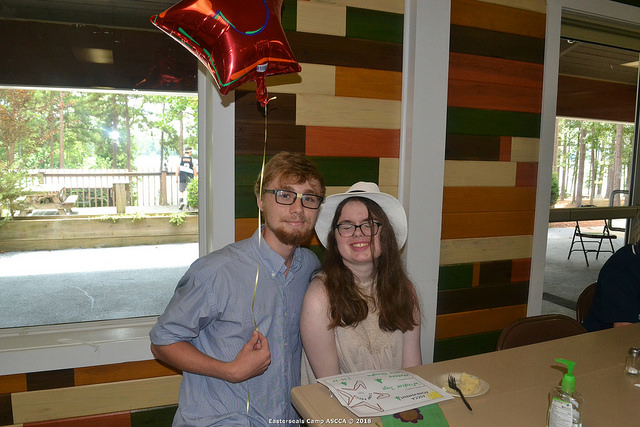 When you go to Camp ASCCA, the staff promise three nutritious meals as well as afternoon snacks each day throughout the week. Luckily for all of us, these meals and snacks are not only nutritious but also delicious. Even the picky eaters among us should find something good to eat. My parents say I am a picky eater, but some of the camp meals have turned out to be favorites, whether for breakfast, lunch, dinner, or snack.

Breakfast starts your day early in the morning, right after the Pledge of Allegiance and the joke and quote of the day. The breakfast selections change each day. A lot of campers enjoy the day we have the classic eggs and bacon, but I prefer the day we have French toast and maple syrup, which is usually on a Tuesday. Other options include grits, sausage biscuits, and muffins. On Friday mornings we may be sad about leaving camp that day, but the delicious cinnamon rolls lift our spirits! Various cereals are on standby in case you don't like or cannot have the breakfast meal of the day. Even the choices of cereal change each day.

After we are done eating breakfast, they start playing music, and we all dance. It's a great way to wake up for the day's activities!

Lunch time gives us a good break in the day. I do not have a favorite camp lunch. Just like with breakfast and dinner, we eat something different every day, which is a great way to ensure that the meals appeal to a wide range of tastes. Music plays during both lunch and dinner while we eat.

My favorite meal of the day is dinner, and my three camp favorites are meatloaf, hamburgers, and tacos. I love how their meatloaf is seasoned, and it's paired up with mashed potatoes and a buttered dinner roll. I do love their hamburgers because they have a taste of home cooking, and they are served with chips. Another tasty meal is their beef tacos. The meat is so delicious. It has a slight spice to it; you may not notice it, but it's there. After dinner, it's time to get ready for bed because we have to get up early the next morning for breakfast and a day filled with fun activities.

Snacks and desserts are also served. My favorite is ice cream sandwiches. Fudge rounds went with the tacos last time. They also have little tiny cups of ice cream, your choice of vanilla or chocolate. I normally choose chocolate. Other treats served during special events include popsicles, nachos, slushies, popcorn, and cotton candy.

Whether you are a picky eater or have adventurous tastebuds, you will find something to enjoy for breakfast, lunch, dinner, and snack during your week at Camp ASCCA. I am hoping Camp will have all my favorites during my session, which is this month, but I am willing to be adventurous if you are!