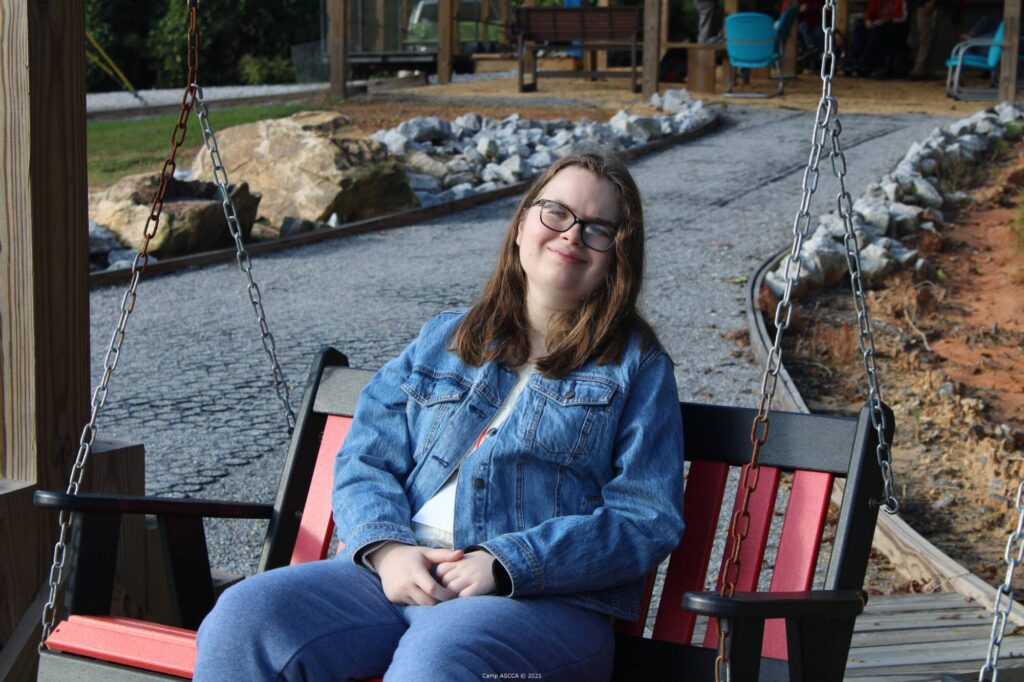 Fall is here, which means Halloween came to Camp ASCCA! Fall Camp was three days of fun activities from Friday afternoon to Sunday morning over the last weekend of October. Fall Camp was like their summer camp with fun and exciting events, art projects, games, and pastimes, except they were packed into one glorious weekend instead of spread over an entire week.

My favorite event was the trick-or-treat scavenger hunt Saturday morning before lunch. Each one of the campers in my group would read a clue in a riddle format that took us all over Camp ASCCA. The goal was to find Halloween-themed bowls or buckets of candy in various hidden locations using these clues. I collected a lot of candy during the scavenger hunt! At the end, the clues led us to a mummy holding a tray of glow-in-the-dark sticks, and we made shapes out of them to take home. I turned mine into a flower, but some of the others in my group created a hat, a ball, a flower crown, and even a bathing suit!

My next favorite activity was arts and crafts on Saturday afternoon. We had a choice of either coloring pictures or making a tie-dye bandana, or we could do both if we had time. I chose tie-dye because it allows me to show my creativity and it's fun! I made a tie-dye bandana in the colors of red and blue. I look forward to wearing it sometime.

Archery was another fun activity because I got to test how good my aim is. This activity was held Saturday afternoon, right after arts and crafts. My oldest sister used to compete in archery as a teenager and won several badges for her skills, so I was eager to try it again. The first time I tried archery was during summer camp in 2018, and the last time was this past summer camp. My aim has gotten better! I actually did great, and it was fun. One time I almost hit a bullseye on the target, and I was so excited to tell my parents and my sister!

In my first paragraph, I described Fall Camp as a "glorious weekend," and it really was. The weather was perfect, and we enjoyed the clear skies and cool temperatures. I look forward to next year's Fall Camp, and I hope the weather will be just as cooperative. I know for sure the activities will be just as fun!