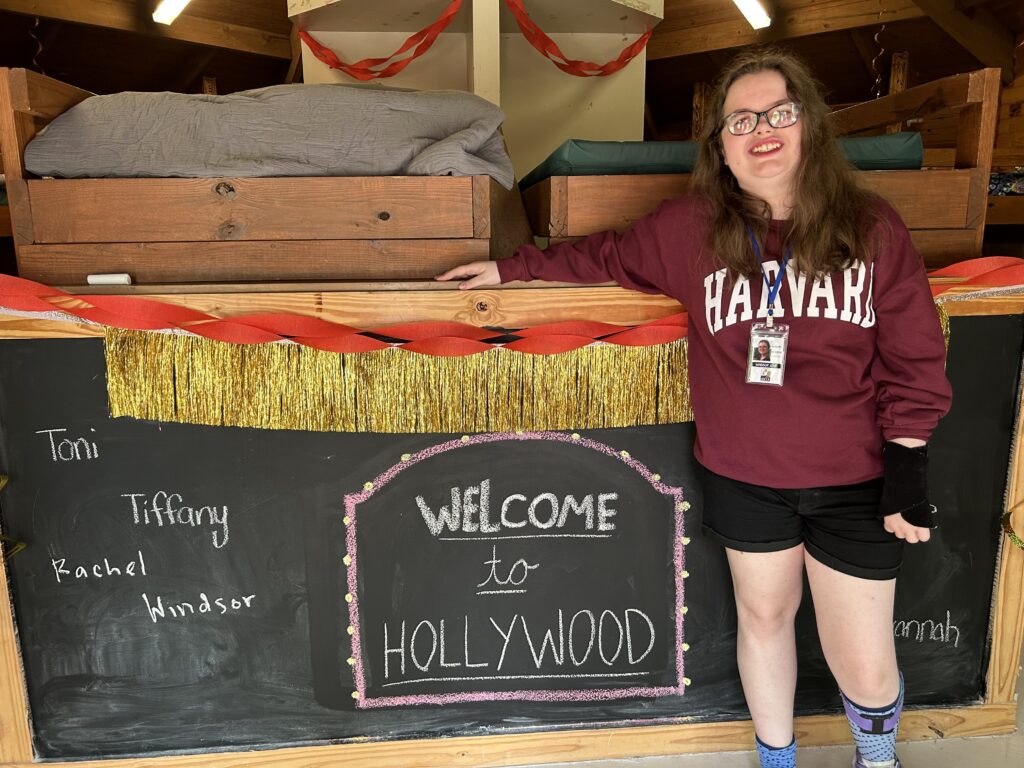 I attended the first session of this summer's Camp ASCCA. It was very fun, and I enjoyed my time there. I stayed in Cherokee cabin and had a great counselor. I also loved the theme of our cabin for the week. The theme of the cabin was "Celebrity," so our cabin was beautifully decorated with Hollywood-related décor. The week was full of fun activities despite the rain.
The cabin decorations were so clever! I could tell the counselors put a lot of hard work into the theme and decorations. I cannot imagine how long it took! The famous red carpet and gold stanchions led up to the cabin door, which was spangled with gold stars. Red and black feathered boas festooned each of the windows. Also on the windows was a V.I.P. list made of black construction paper with the names of the campers written in colorful markers. The beds on the top bunks were decorated with caution signs that said "Celebrity crossing" and crime scene tape that had movie quotes on them. On the mirrors by each bedside were silver pom poms and fun banners that said "queen" and "ASCCA." The closets for the counselors had white curtains with gold stars, and gold streamers were hung at the entrance to the restroom to look like curtains. It was so festive.
The activities we had that week were the best way to start off the summer sessions. On Monday morning we started our day with the pool and tubing. I am not a big fan of pools so I sat on the steps listening to the music that was playing as my group swam in the pool. Then we went tubing.
In the afternoon my group had arts and crafts followed by the zipline. Arts and crafts are my favorite activity at Camp ASCCA, so I was really excited that we were going that afternoon. At arts and crafts we had the choices to paint, make a necklace, or do Perler beads. I chose Perler beads. They had fun shapes of animals and flowers, and I chose a tulip.
After arts and crafts were over, we went to the zipline. I have gone ziplining in previous sessions, so I was excited to go again. I enjoyed chatting with everyone while waiting for my turn to be called out. I had a good time on the zipline when it was my turn to go.
Tuesday was a fun day as well. My group had the Bck4T party in the morning and a pool party in the afternoon. We had two hours of fun at the Bck4T. They had a movie playing and arcade games set up. I love playing video games. Later that afternoon we went to the pool. Fun music was playing while we were swimming.
Wednesday's and Thursday's plans were interesting. On Wednesday we had splash pad and demo farm that morning. Splash pad was cut short because the weather looked concerning, so we went to the demo farm and arrived early. I met all the animals there, and we did a little craft project. A bad storm got to the demo farm before we could leave, but they had various card games to play while the storm calmed down and passed by.
When afternoon came, we had been told that there was a sports party that night, so we spent the rest of that afternoon getting ready for the party. The party was held at the big stage next to The Lion's Lodge, and it was very enjoyable. We had a choice to dance, listen to music, or have a bean bag toss war. I chose to listen to the music and play the bean bag toss war. The event lasted for two hours.
When Thursday came, our day was really packed with fun activities because it was the last day for campers to have a great time here at Camp ASCCA. In the morning my group and I had archery and canoeing. I was very excited about those activities because at previous sessions my time to go canoeing was always rained out. At archery, I almost got a bullseye on my second try, and both my counselor and I were so proud of my aim. It was the very first time I ever went on a canoe, and it was just as fun as I thought it would be.
That morning is also when we were told that there would be a dance and award ceremony that night. I was excited to find out who would get honor cabin, camper of the week, and counselor of the week. My group and I spent the afternoon getting ready for the dance. The dance was held in the dining hall because it has a lot of room for the campers to dance. It was fun, and the dance also lasted for two hours that night. It was the best way to end our session.
I really enjoyed the week. I learned a lot of sign language with my group. I hope I can go canoeing again next year. I am looking forward to hearing other people's experiences in later sessions to see how they love Camp ASCCA and the time they spent there. The staff at Camp ASCCA are really nice and hardworking. However, I cannot wait to see what Camp ASCCA has in store for fall camp.