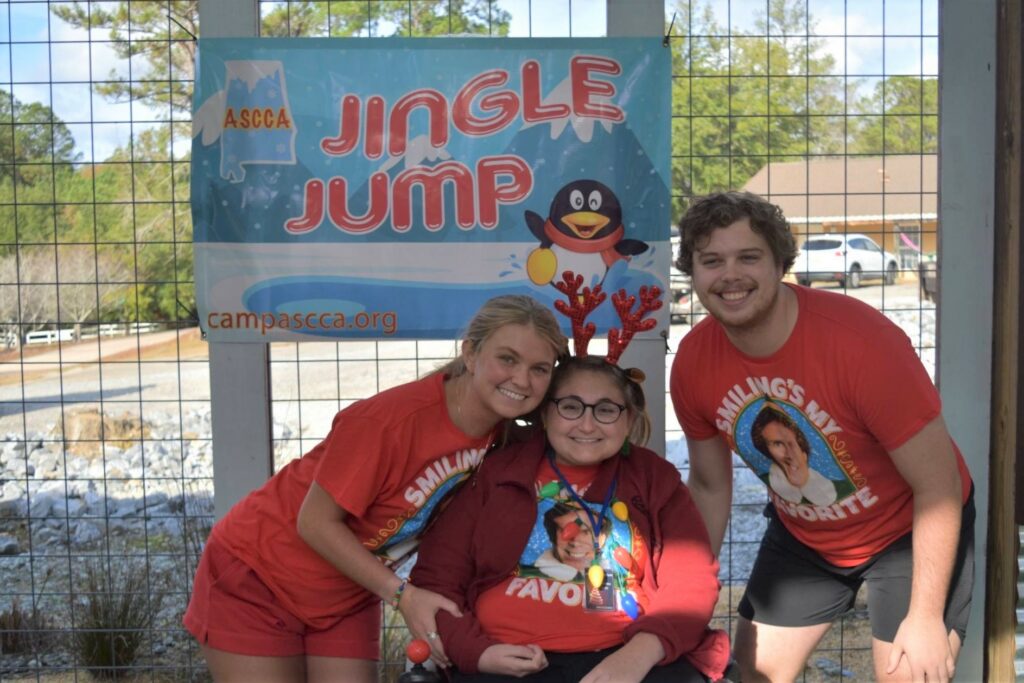 Hey y'all, I'm going to tell everyone about the amazing time I had at Camp ASCCA Christmas Weekend 2022!
When I arrived Friday afternoon, I got checked in, and then we headed to our cabin. There I got to meet up and spend the weekend with my best friend, Mia! I was so excited when I found out that she was my counselor for the weekend!
Friday night after our pizza dinner, we had a gingerbread decorating contest. It was so fun decorating it with our whole dinner table even though we did not win we had fun! After that, we all held hands and sang my favorite song, the Goodnight Song, then bedtime!
When we woke up Saturday morning, Mia braided my hair into space buns, and then off to breakfast we went. After breakfast, we had a tacky Christmas sweater party. There was a snow globe that we could get inside and take pictures. It was amazing. I had snow all over my wheelchair, it was everywhere! We made bracelets, and Christmas tree ornaments, and wrote letters to Santa! We even had a surprise visit from Santa, I told him what I wanted for Christmas, and I got my picture made with him! Then we listened to Christmas music until it was time for lunch.
After lunch was the Jingle Jump! Grayson, Mia, and I raised $800 for the Jingle Jump. I pushed them into the water, and they said it was freezing cold. Mia rubbed the cold water on my face! It was so much fun.
After rest period, we had a snack and free choice activities. We chose to play putt-putt, and my friend Brooke won! After that, we went to dinner and had my favorite chicken cordon bleu. Then it was time for the concert. The concert was amazing, it was confetti themed, and it was literally everywhere. When we found a yellow star in the confetti, we got a prize. Mia and I found one, and I got a Visa card! I did not want to leave the concert when it was over, but we have a lot of memories! We went back to the cabin and got ready for bed. Mia tucked me in, and we talked for a little bit. I told her I wasn't ready to leave, but I missed my mom!
We slept all night long, and when we got up in the morning, Mia braided my hair again. After breakfast, we had a talent show, but my mom had to pick me up early. I am so blessed for being able to go this weekend and have so much fun! I cannot wait to go back and see everyone and do everything again! Thank you to all the Camp ASCCA staff for taking care of me and letting me have an amazing weekend!